Providing an online forum to SHOWCASE our Entrepreneurs raising capital
Second Thursday of each month 10:00 to 11:30 am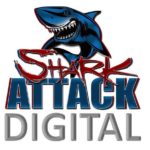 The Ritz Group is proud of producing over 50 Shark Attacks, screening over 1,000 companies, helping over 150 companies pitch, and welcoming over 70 Sharks to judge.  Our goal is to take Shark Attack Digital.  We will conduct Digital Shark Attacks on the second Thursday of each month in 2021.
This will enable us to feature MORE companies and enhance the learning experience for non-presenting entrepreneurs who attend.  More importantly, our "live" assessments will also help investors who want to contact presenting companies for a second date.
Finally, we want to showcase our Digital Shark Attack Stars.    We do that three ways.     1) Based on the Shark Recommendations companies are featured on the Ritz Group Innovation Stars.   2)  The Digital Shark Attack session is recorded and posted on the Ritz Group Website.    3)  Digital Shark Attack presenters investor collateral is posted on Brite Idea Lab.
WAY IT WORKS:
First Step
Second Step
Third Step
STEP 1:    Register to attend or Pitch at one of the monthly online Digital Shark Attacks.    This will be a 5 minute online pitch with a maximun of 5 slides.  We will use GoToMeeting (Code# = 389-455-973)  and you will need your camera on.   Critiques will be from our sharks with questions from our audience members (entrepreneurs and investors)
SLIDE DECK:  
The Format for the Video .PPT is as follows (Max 5 Slides and no more the 10 minutes)
1.   INTRODUCTION:              Who are you and your Team
2.  RAISE AMOUNT:               How are you currently raising, how much YTD and in the Past
3.   THE PROBLEM:                 Market Niche and the NEED you saw
4.    YOUR SOLUTION:           Plus your Channel Marketing Strategy driving adoption
5.   YOUR PROGRESS:            Where are you YTD, plus Next Steps
PITCH COACHING:    Each 5 minute  PPT Video Submission will be reviewed and discussed with the submitter.   The goal is to perfect the presentation from the lens of an Investor.    That is...what they value
Corrections and re-submissions are encouraged - the goal is to perfect  the value proposition and investor presentation.
MORE EXPOSURE:    Companies who pitch for 5" at the monthly online Digital Shark Attack will be featured on the Ritz Group Digital Shark Attack page with their company LOGO.
Since Brite Idea Lab hosts the Ritz Group members,  your Profile and all company sub-profiles will be available to Match and Search by Ritz Group Members,  as well as our ecosystem.   One Digital stop to fully feature your investment story.
After the monthly Digital Shark Attack your Video Shark Attack will be posted on the Ritz Group Digital Shark Attack Archive page for viewing by investors who were unable to  attend
We will also send your MP-4 presentation to investors we believe are in your "Sweet Spot."    Key is completing  your 5-minute Video PPT to investors that you know, or reach out to you based on your Digital Shark Attack Exposure.
We will start out with one per month until we have the promotion and session perfected.    Archive storage will be by Industry Category and NOT by date.    The schedule will be the second Thursday of each month.  10:00 to 11:30
You can, if space permits, show up online to observe using the following Link