Digitially Connecting and Protecting Veterans and their Families
The Ritz Group is proud to sponsor two (2)  Special Programs for veterans and to lead the charge to secure additional sponsors and other veteran organizations to present to major organizations, like Home Depot, who provide major financial support to veteran initiatives.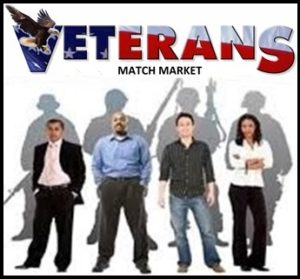 i-Serve is the Veteran Match Portal for both active duty, retired and veterans from all branches
The goal of the Veterans Match portal is to 'connect" veterans based on their "needs."   The three Veteran profiles consist of Individuals (veterans all branches), Corporations/Organizations/Government, plus product and service providers.   Veteran sub-profiles are used to profile veteran service units, and well as their employment, business ventures, issues, entrepreneurial ideas or projects.  For each sub-profile, they define their "Needs" or "Wants," to include job requests and even job openings.
The i-Serve goal is to MATCH each of the diverse Veteran Match Criteria with other Veteran's Match Criteria - to include government resources, or commercial entities actively serving veterans.  Each Veteran Match Concierge enables them to tailor their Match Criteria and who they want to Match.  (i.e. just veterans... or  government... or commercial resources).   The Veteran Match portal is designed to be an on-ramp to the thousands of communities and organizations that serve veterans   It is a veteran's digital identity to "find and be found."
Veterans Emergency Registry

eLink 911 provides veterans and their families "peace of mind" knowing their family is protected in a 911 Emergency
eLink911 is a technology company for an "open" cloud-based emergency REGISTRY providing first responders with Medical Alerts (allergies, heart and medical conditions impacting treatment, etc.) plus Emergency Rooms [ER] with ICE contacts, and/or ANY third party emergency management or healthcare contacts.
In addition, eLink 911 Premium products provide members and families with a Personal Healthcare Record (PHR), emergency management services, Medical Alert ID Products, plus a mobile APP to launch 911 calls.