The Georgia Capital Expo
THE FUTURE IS NOW!
Take  a Virtual Tour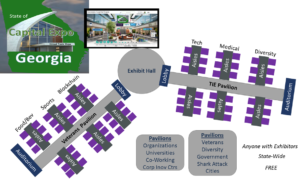 Imagine... a football sized convention center that is the Annual Meeting place for the entire Georgia entrepreneurial ecosystem with thousands of visitors, who can walk the floor for  3 or 4 days   to find out what's happening from every major organization, incubator, accelerator, co-working space and university.
Imagine... walking the Aisles of Venture Atlanta, TAG, TIE, Tech Square, Ritz Group, The Farm, Tech Stars, AIM, Weworks, ATV and our leading Universities to visit the exhibit booths of the Entrepreneur companies they incubate, mentor or host. 
Imagine... going to the Break-Out rooms of each of the hosts and seeing  videos, a summary of their programs, training materials to understand their focus and what they believe is their "sweet-spot" in delivering value to our ecosystem
Imagine... the Sponsor benefits vs. today's piecemeal exposure to one or two major venues, while the remainder fight to make it on their own.
Imagine... the benefits to the State Government responsible for fostering Georgia's Entrepreneurial Community,  not to forget the benefit to Start-Up Atlanta, Invest Atlanta and each Metro Chamber of Commerce, as well as the entrepreneurial ecosystem in Alpharetta, Marietta, Savannah, Macon, and Augusta.
Imagine... the information exchange from product and service providers, investors, as well as strategic relationships formed with each other and with Georgia's Corporations looking for technologies or targeted market solutions.
Imagine... the insight gained from early stage entrepreneurs, from students and inventors who are about to begin their journey to build their business and make their mark on the world.
Imagine... the tremendous amount of money, time, effort, staffing and coordination required to pull-off an event of this magnitude  and of course set-up the infrastructure to repeat every year.
Imagine...Doing this Event DIGITALLY year around as a pre-requisite for some date in the future conducting the physical event once a year.  
THAT YEAR... can be 2023.     That's because today the Technology exists to do everything VIRTUAL that we identified in the  physical Capital Expo Trade Show.   This includes includes  an industry exclusive, multi-hosted venue  that Pavilion Event Producers create, brand and manage, plus e-Booths their Entrepreneurs create and manage.   Yes, the eBooths have all the function and features of a physical booth at a trade show.      More importantly, the Georgia virtual Capital Expo  has a shelf life that is more then 3 or 4 days and, in fact, is the qualifier for launching an annual physical event for the Georgia Entrepreneur Ecosystem.  
The Ritz Group is proud to be one of the founding Sponsor/Partners in the virtual Capital Expo and to lead the effort to make this  technology platform  another Georgia FIRST for Entrepreneurs.     What follows is a description of the major components of the virtual Capital Expo Event Platform.
For more information on how your company, organization or group can participate, please do not hesitate to contact us
A Tutorial of the Capital Expo Features
The Global Capital Expo Virtual Trade Show
Georgia Main Lobby
Power of the PAVILION
The e-Booth
The Auditorium
The Search
Sponsors
Powered by Brite Idea Lab
The Global Capital Expo Virtual Trade Show
The Capital Expo is a Global Virtual Trade show that hosts multiple Country and State Capital Expo trade shows to showcase their Entrepreneurial Ecosystem.
The Technology Stack consists of three platforms providing a seamless User Experience across all three venues.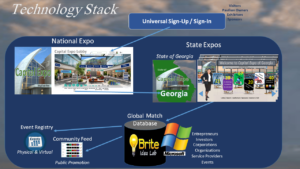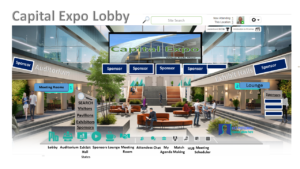 The first Platform is the Global Visitor Platform providing a Lobby for Visitors to Check-In, profile and pick up their briefcase and even MATCH with other Visitors.  The Platform provides Venues to hold meetings, meet one-on-one with others and attend training or presentations on the Main Tent Auditorium.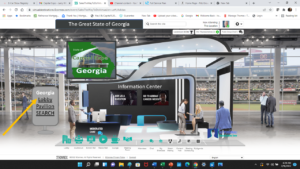 Key is the Exhibitor Hall, where each Country or State has their one eBooth with information and links to their Capital Expo.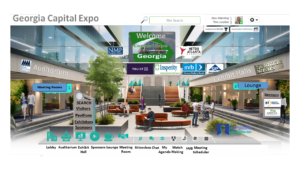 The second Platform is the multi-hosed Country and State Capital Expos.   Each hosted Expo features their own Lobby, Pavilions and Sponsors.    Each Pavilion creates and manages their own Lobby, Aisles, Exhibitors and Auditorium.    Pavilion Owners are Organizations, Universities, Co-working Spaces, Chambers - or anyone who has Entrepreneurs or Exhibitors.   Each Exhibitor creates their own eBooth and requires approval from the Pavilion owner.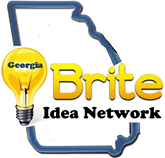 The third Platform is Brite Idea Lab, a Global Database that holds everything together.  Brite Idea Lab is a Match Community for the Entrepreneur Ecosystem.   Entrepreneurs profiling on Brite Idea Lab can create their eBooth with "one-click".    The can Match with Capital and Funds, plus other Product and Service Providers supporting the Global Entrepreneur Ecosystem.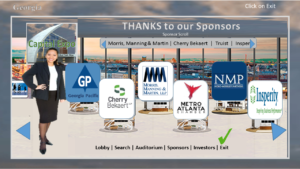 The  goal with Capital Expo is to be  a no charge event for Entrepreneurs and students.    The funding for the Virtual Capital Expo will be provided by  5 to 10 corporate sponsors active in supporting a State, National or Global ecosystem.   Additional Sponsors can also Sponsor specific Events, their lobby, exhibit halls, or an auditorium.   These sponsor funds are set by the Pavilion owners and collected online from sponsors and deposited in the Pavilion owners banking account.  
Powered by Brite Idea Lab